We create and deliver technology solutions
to meet your business needs
Agency
We are an ad hoc agency that helps companies grow and achieve their business goals by building modern websites, defining strong brand identity and planning thoughtful social media strategies.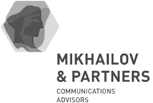 Team
Our team cohesion is defined by the principle Learn/Apply/Share and developed corporate culture.
Micheal Glickman
Founder & CEO
Roman Esakov
Project Manager
Alexander Kincharov
Designer
Ekaterina Sergeeva
Back-end Developer
Sergey Spiridonov
Back-end Developer
Igor Pnev
Front-end Developer
Dmitry Statsenko
Front-end Developer
Marina Severina
Support Manager
Omari Zverkov
Photos & Videos
Expertise
Design
UI/UX design
Brand Idenity
Art Direction
Visual Design
Print & Illustrations
Digital
Corporate Websites
E-commerce
Presentations
Mobile Apps
Support
Technical Support
Upgrading
Perfomance Optimization
Highload-projects
Marketing
Marketing Strategy
Paid Media
SEO
SMM
Email Marketing
Contacts
Don't hesitate to call or e-mail us If you are interested in our services or want to discuss a potential collaboration.